BETTER DAYS
$15,500 - $18,500 / WEEK
---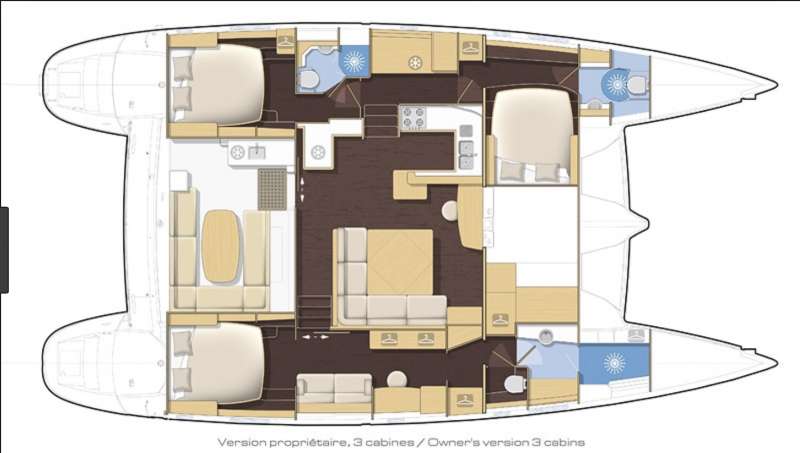 Boat Details
| | |
| --- | --- |
| Cabins: | 3 |
| Queen: | 3 |
| Single Cabins: | 1 |
| Showers: | 3 |
| Wash Basins: | 3 |
| Heads: | - |
| Electric Heads: | 3 |
Pick Up Locations
| | |
| --- | --- |
| Pref. Pick-up: | American Yacht Harbor |
| Other Pick-up: | USVI |
---
Details
| | |
| --- | --- |
| Refit: | - |
| Helipad: | No |
| Jacuzzi: | No |
| A/C: | Full |
Engine Details
Yanmar 75 hp Onan 13kw
Fuel Consumption:
1
Cruising Speed:
10
Max Speed:
14US Gall/Hr
Locations
| | |
| --- | --- |
| Winter Area: | Caribbean Virgin Islands |
| Summer Area: | Caribbean Virgin Islands, Caribbean Leewards |
---
Amenities
| | |
| --- | --- |
| Salon Tv/VCR: | Yes |
| Salon Stereo: | Yes |
| Sat Tv: | - |
| # of Videos: | Array |
| # DVDs/Movies: | Web Based |
| # CD's: | Web Based |
| Camcorder: | - |
| Books: | Web Based |
| Board Games: | Yes |
| Sun Awning: | Yes |
| Deck Shower: | Yes |
| Bimini: | Yes |
| Water Maker: | Yes |
| | |
| --- | --- |
| Special Diets: | Yes |
| Kosher: | Yes |
| BBQ: | Yes |
| # Dine In: | - |
| Minimum Age: | - |
| Generator: | Onan 13kw |
| Inverter: | 3000 watt |
| Voltages: | 220/110 |
| Water Maker: | Yes |
| Water Cap: | 300 gallons |
| Ice Maker: | Yes |
| Sailing Instructions: | - |
| Internet Access: | Onboard WIFI |
| | |
| --- | --- |
| Gay Charters: | Yes |
| Nude: | Yes |
| Hairdryers: | - |
| # Port Hatches: | many... |
| Guests Smokes: | - |
| Crew Smokes: | No |
| Pets Aboard: | No |
| Pet Type: | - |
| Guest Pets: | No |
| Children Ok: | Yes |
| Hammock: | - |
| Windscoops: | - |
---
Water Sports
| | |
| --- | --- |
| Dinghy size: | 14ft |
| Dinghy hp: | 40hp Yamaha |
| Dinghy # pax: | 8 pax |
| Water Skis Adult: | Yes |
| Water Skis Kids: | Yes |
| Jet Skis: | - |
| Wave Runners: | - |
| Kneeboard: | - |
| Windsurfer: | - |
| Snorkel Gear: | Yes |
| Tube: | Yes |
| | |
| --- | --- |
| Scurfer: | - |
| Wake Board: | Yes |
| Kayaks 1 Pax: | - |
| Kayaks (2 Pax): | Yes |
| Floating Mats: | - |
| Swim Platform: | - |
| Boarding Ladder (Loc/Type): | Sugar Scoop ladders |
| Sailing Dinghy: | - |
| Beach Games: | Yes |
| Fishing Gear: | Yes |
| Gear Type: | Trawling, Casting, tackle |
| Rods: | 2 |
Genuine hospitality and contagious enthusiasm for the islands are what Margaret and Taylor are all about. Having sailed their 30' monohull extensively from Maine to Grenada and lived aboard while exploring the Virgin Islands, they know how to turn the dream of a sailing adventure into a reality.

Taylor grew up in Central Virginia, splitting summers between living on the lake driving ski boats and traveling in the family RV to every state with a road to it. After earning a business degree from Appalachian State University with honors, Taylor started pursuing his passion for living. Playing in a touring rock band transitioned to trekking in South America, which led to bartending in Breckenridge, Colorado. After a few years of the ski bum life, the dream of setting off for points unknown in a sailboat started to form. He jumped head first into sailing, taking American Sailing Association courses, walking the docks for crew work, completing safety certifications, and before he knew it he was working day sailing charters in the Virgin Islands.

Margaret also hails from the Blue Ridge Mountains of Virginia and has sailboat chartering in her blood from her Dad, who captained classic windjammers in Maine. She began traveling internationally early on and developed a love for traditional recipes and an appreciation for the way a good meal can bring families and friends together. An ambitious explorer as well, Margaret attended the National Outdoor Leadership school before earning her bachelors degree from the University of Colorado in Boulder. She is a certified yoga teacher and recently returned to where she received her training in India, joining a month long motorcycle expedition over the highest drivable passes in the Himalayas.

Despite being raised less than an hour apart and sharing so many passions, the two didn't meet until they were both living in Colorado. Shortly there after their dream of sailing the islands took off and they moved to Saint John where they worked day sailing charters and eco kayak tours. After that season they bought their sailboat and began cruising full time, meshing into a dynamic team afloat. Having guests aboard ignited their passion for sharing the good life with others and providing a truly bespoke charter.
Margaret and Taylor offer a vacation experience informed by years of local knowledge and a menu of their favorite island recipes personally gathered from the Bahamas to Grenada. From diving for conch that are later served up as fritters to helping someone catch their first wave surfing, providing lasting memories in one of the world's most special places is something this team never tires of. Together they bring personalized service and engagement, with true authenticity and passion for sharing the island experience with others.
(15 December -30 April)
Caribbean Virgin Islands
(1 May - 14 December)
Caribbean Virgin Islands, Caribbean Leewards
| | | | | | | | | | | | | | | | | | | | | | | | | | | | | | | | |
| --- | --- | --- | --- | --- | --- | --- | --- | --- | --- | --- | --- | --- | --- | --- | --- | --- | --- | --- | --- | --- | --- | --- | --- | --- | --- | --- | --- | --- | --- | --- | --- |
| Jul 2019 | 1 | 2 | 3 | 4 | 5 | 6 | 7 | 8 | 9 | 10 | 11 | 12 | 13 | 14 | 15 | 16 | 17 | 18 | 19 | 20 | 21 | 22 | 23 | 24 | 25 | 26 | 27 | 28 | 29 | 30 | 31 |
| Aug 2019 | 1 | 2 | 3 | 4 | 5 | 6 | 7 | 8 | 9 | 10 | 11 | 12 | 13 | 14 | 15 | 16 | 17 | 18 | 19 | 20 | 21 | 22 | 23 | 24 | 25 | 26 | 27 | 28 | 29 | 30 | 31 |
| Sep 2019 | 1 | 2 | 3 | 4 | 5 | 6 | 7 | 8 | 9 | 10 | 11 | 12 | 13 | 14 | 15 | 16 | 17 | 18 | 19 | 20 | 21 | 22 | 23 | 24 | 25 | 26 | 27 | 28 | 29 | 30 | |
| Oct 2019 | 1 | 2 | 3 | 4 | 5 | 6 | 7 | 8 | 9 | 10 | 11 | 12 | 13 | 14 | 15 | 16 | 17 | 18 | 19 | 20 | 21 | 22 | 23 | 24 | 25 | 26 | 27 | 28 | 29 | 30 | 31 |
| Nov 2019 | 1 | 2 | 3 | 4 | 5 | 6 | 7 | 8 | 9 | 10 | 11 | 12 | 13 | 14 | 15 | 16 | 17 | 18 | 19 | 20 | 21 | 22 | 23 | 24 | 25 | 26 | 27 | 28 | 29 | 30 | |
| Dec 2019 | 1 | 2 | 3 | 4 | 5 | 6 | 7 | 8 | 9 | 10 | 11 | 12 | 13 | 14 | 15 | 16 | 17 | 18 | 19 | 20 | 21 | 22 | 23 | 24 | 25 | 26 | 27 | 28 | 29 | 30 | 31 |
| Jan 2020 | 1 | 2 | 3 | 4 | 5 | 6 | 7 | 8 | 9 | 10 | 11 | 12 | 13 | 14 | 15 | 16 | 17 | 18 | 19 | 20 | 21 | 22 | 23 | 24 | 25 | 26 | 27 | 28 | 29 | 30 | 31 |
| Feb 2020 | 1 | 2 | 3 | 4 | 5 | 6 | 7 | 8 | 9 | 10 | 11 | 12 | 13 | 14 | 15 | 16 | 17 | 18 | 19 | 20 | 21 | 22 | 23 | 24 | 25 | 26 | 27 | 28 | 29 | | |
| Mar 2020 | 1 | 2 | 3 | 4 | 5 | 6 | 7 | 8 | 9 | 10 | 11 | 12 | 13 | 14 | 15 | 16 | 17 | 18 | 19 | 20 | 21 | 22 | 23 | 24 | 25 | 26 | 27 | 28 | 29 | 30 | 31 |
| Apr 2020 | 1 | 2 | 3 | 4 | 5 | 6 | 7 | 8 | 9 | 10 | 11 | 12 | 13 | 14 | 15 | 16 | 17 | 18 | 19 | 20 | 21 | 22 | 23 | 24 | 25 | 26 | 27 | 28 | 29 | 30 | |
| May 2020 | 1 | 2 | 3 | 4 | 5 | 6 | 7 | 8 | 9 | 10 | 11 | 12 | 13 | 14 | 15 | 16 | 17 | 18 | 19 | 20 | 21 | 22 | 23 | 24 | 25 | 26 | 27 | 28 | 29 | 30 | 31 |
| Jun 2020 | 1 | 2 | 3 | 4 | 5 | 6 | 7 | 8 | 9 | 10 | 11 | 12 | 13 | 14 | 15 | 16 | 17 | 18 | 19 | 20 | 21 | 22 | 23 | 24 | 25 | 26 | 27 | 28 | 29 | 30 | |
---