BODHISATTVA
$17,700 - $22,000 / WEEK
---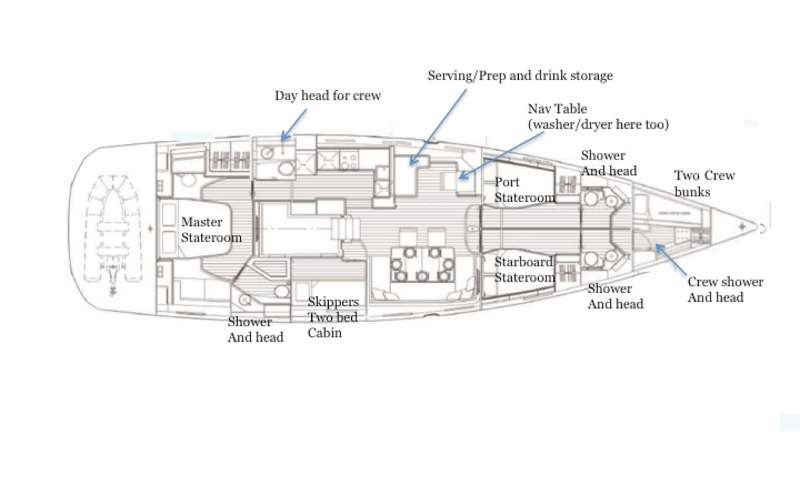 Boat Details
| | |
| --- | --- |
| Cabins: | 3 |
| Queen: | 2 |
| Single Cabins: | 1 |
| Showers: | 3 |
| Wash Basins: | 3 |
| Heads: | 3 |
| Electric Heads: | 3 |
Pick Up Locations
| | |
| --- | --- |
| Pref. Pick-up: | St. Thomas, USVI |
| Other Pick-up: | BVI - inquire, limit 7 |
---
Details
| | |
| --- | --- |
| Refit: | - |
| Helipad: | No |
| Jacuzzi: | No |
| A/C: | Full |
Engine Details
180hp Volvo and 17,5kw ONAN
Fuel Consumption:
20
Cruising Speed:
8knts
Max Speed:
12knts+US Gall/Hr
Locations
| | |
| --- | --- |
| Winter Area: | Caribbean Virgin Islands, Caribbean Leewards, Caribbean Windwards |
| Summer Area: | Caribbean Virgin Islands, Caribbean Leewards, Caribbean Windwards |
---
Amenities
| | |
| --- | --- |
| Salon Tv/VCR: | Yes |
| Salon Stereo: | Yes |
| Sat Tv: | - |
| # of Videos: | Array |
| # DVDs/Movies: | Yes |
| # CD's: | Fusion Blu |
| Camcorder: | Yes |
| Books: | Yes |
| Board Games: | No |
| Sun Awning: | Yes |
| Deck Shower: | Yes |
| Bimini: | Yes |
| Water Maker: | 285L/75US |
| | |
| --- | --- |
| Special Diets: | Yes |
| Kosher: | Inq |
| BBQ: | Yes |
| # Dine In: | - |
| Minimum Age: | N/A |
| Generator: | yes |
| Inverter: | Yes |
| Voltages: | 110V |
| Water Maker: | 285L/75US |
| Water Cap: | - |
| Ice Maker: | Yes |
| Sailing Instructions: | no |
| Internet Access: | Onboard WIFI |
| | |
| --- | --- |
| Gay Charters: | Yes |
| Nude: | Yes |
| Hairdryers: | Yes |
| # Port Hatches: | - |
| Guests Smokes: | No |
| Crew Smokes: | No |
| Pets Aboard: | No |
| Pet Type: | N/A |
| Guest Pets: | No |
| Children Ok: | Yes |
| Hammock: | Yes |
| Windscoops: | No |
---
Water Sports
| | |
| --- | --- |
| Dinghy size: | 16' |
| Dinghy hp: | 70HP |
| Dinghy # pax: | 8 pax |
| Water Skis Adult: | Yes |
| Water Skis Kids: | No |
| Jet Skis: | No |
| Wave Runners: | No |
| Kneeboard: | No |
| Windsurfer: | No |
| Snorkel Gear: | Yes |
| Tube: | Yes |
| | |
| --- | --- |
| Scurfer: | No |
| Wake Board: | Yes |
| Kayaks 1 Pax: | No |
| Kayaks (2 Pax): | 1 |
| Floating Mats: | Yes |
| Swim Platform: | yes |
| Boarding Ladder (Loc/Type): | - |
| Sailing Dinghy: | no |
| Beach Games: | - |
| Fishing Gear: | No |
| Gear Type: | - |
| Rods: | - |
Blair and Ian were both raised by fathers who loved to sail. Ian sailed down the coast of Mexico as a toddler and Blair helped her father build a sailboat in their garage as a child.

Ian has been captaining large yachts and sailboats his entire life around the world, spending most if his time in the Caribbean islands. Blair had been traveling the world with her world famous sommelier sister, exploring vineyards and local cuisine. She apprenticed as a sous chef in New York and Philadelphia. She moved to Brazil in 2005 and became a certified yoga teacher, traveling around the country instructing workshops.

Moving to Lake Tahoe as crew on an 80ft luxury yacht, she met Ian, the Captain of the vessel. Since meeting they have spent more time on boats than on land and have spent many years working and traveling together, finally making their way back to the Caribbean to join the Bodhisattva.

Blair and Ian are excited to give you the best experience for your Caribbean vacation. Whether you are looking for and fun-filled, action-packed adventure or a relaxing time filled with beautiful sunsets and great food – or both! They are here to help design your ideal travel experience.

(15 December -30 April)
Caribbean Virgin Islands, Caribbean Leewards, Caribbean Windwards
(1 May - 14 December)
Caribbean Virgin Islands, Caribbean Leewards, Caribbean Windwards
| | | | | | | | | | | | | | | | | | | | | | | | | | | | | | | | |
| --- | --- | --- | --- | --- | --- | --- | --- | --- | --- | --- | --- | --- | --- | --- | --- | --- | --- | --- | --- | --- | --- | --- | --- | --- | --- | --- | --- | --- | --- | --- | --- |
| May 2019 | 1 | 2 | 3 | 4 | 5 | 6 | 7 | 8 | 9 | 10 | 11 | 12 | 13 | 14 | 15 | 16 | 17 | 18 | 19 | 20 | 21 | 22 | 23 | 24 | 25 | 26 | 27 | 28 | 29 | 30 | 31 |
| Jun 2019 | 1 | 2 | 3 | 4 | 5 | 6 | 7 | 8 | 9 | 10 | 11 | 12 | 13 | 14 | 15 | 16 | 17 | 18 | 19 | 20 | 21 | 22 | 23 | 24 | 25 | 26 | 27 | 28 | 29 | 30 | |
| Jul 2019 | 1 | 2 | 3 | 4 | 5 | 6 | 7 | 8 | 9 | 10 | 11 | 12 | 13 | 14 | 15 | 16 | 17 | 18 | 19 | 20 | 21 | 22 | 23 | 24 | 25 | 26 | 27 | 28 | 29 | 30 | 31 |
| Aug 2019 | 1 | 2 | 3 | 4 | 5 | 6 | 7 | 8 | 9 | 10 | 11 | 12 | 13 | 14 | 15 | 16 | 17 | 18 | 19 | 20 | 21 | 22 | 23 | 24 | 25 | 26 | 27 | 28 | 29 | 30 | 31 |
| Sep 2019 | 1 | 2 | 3 | 4 | 5 | 6 | 7 | 8 | 9 | 10 | 11 | 12 | 13 | 14 | 15 | 16 | 17 | 18 | 19 | 20 | 21 | 22 | 23 | 24 | 25 | 26 | 27 | 28 | 29 | 30 | |
| Oct 2019 | 1 | 2 | 3 | 4 | 5 | 6 | 7 | 8 | 9 | 10 | 11 | 12 | 13 | 14 | 15 | 16 | 17 | 18 | 19 | 20 | 21 | 22 | 23 | 24 | 25 | 26 | 27 | 28 | 29 | 30 | 31 |
| Nov 2019 | 1 | 2 | 3 | 4 | 5 | 6 | 7 | 8 | 9 | 10 | 11 | 12 | 13 | 14 | 15 | 16 | 17 | 18 | 19 | 20 | 21 | 22 | 23 | 24 | 25 | 26 | 27 | 28 | 29 | 30 | |
| Dec 2019 | 1 | 2 | 3 | 4 | 5 | 6 | 7 | 8 | 9 | 10 | 11 | 12 | 13 | 14 | 15 | 16 | 17 | 18 | 19 | 20 | 21 | 22 | 23 | 24 | 25 | 26 | 27 | 28 | 29 | 30 | 31 |
| Jan 2020 | 1 | 2 | 3 | 4 | 5 | 6 | 7 | 8 | 9 | 10 | 11 | 12 | 13 | 14 | 15 | 16 | 17 | 18 | 19 | 20 | 21 | 22 | 23 | 24 | 25 | 26 | 27 | 28 | 29 | 30 | 31 |
| Feb 2020 | 1 | 2 | 3 | 4 | 5 | 6 | 7 | 8 | 9 | 10 | 11 | 12 | 13 | 14 | 15 | 16 | 17 | 18 | 19 | 20 | 21 | 22 | 23 | 24 | 25 | 26 | 27 | 28 | 29 | | |
| Mar 2020 | 1 | 2 | 3 | 4 | 5 | 6 | 7 | 8 | 9 | 10 | 11 | 12 | 13 | 14 | 15 | 16 | 17 | 18 | 19 | 20 | 21 | 22 | 23 | 24 | 25 | 26 | 27 | 28 | 29 | 30 | 31 |
| Apr 2020 | 1 | 2 | 3 | 4 | 5 | 6 | 7 | 8 | 9 | 10 | 11 | 12 | 13 | 14 | 15 | 16 | 17 | 18 | 19 | 20 | 21 | 22 | 23 | 24 | 25 | 26 | 27 | 28 | 29 | 30 | |
---