BODHISATTVA
$17,700 - $22,000 / WEEK
BUILT/REFIT
YEAR
2017.2018
---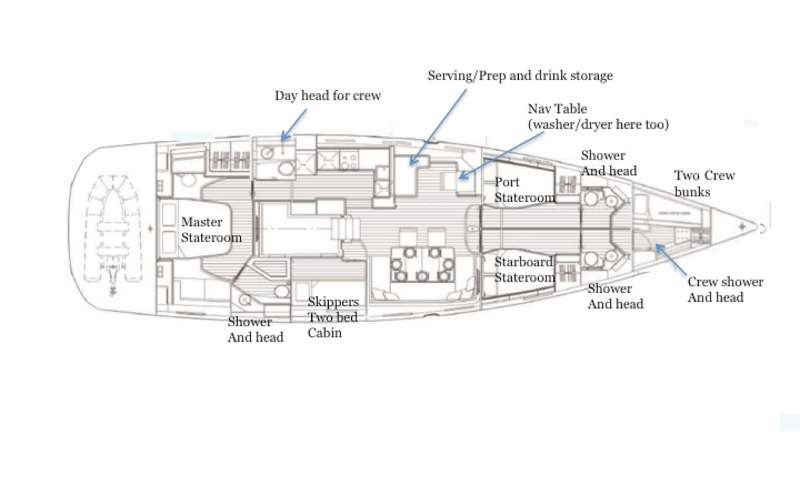 Boat Details
| | |
| --- | --- |
| Cabins: | 3 |
| Queen: | 2 |
| Single Cabins: | 1 |
| Showers: | 3 |
| Wash Basins: | 3 |
| Heads: | 3 |
| Electric Heads: | 3 |
Pick Up Locations
| | |
| --- | --- |
| Pref. Pick-up: | St. Thomas, USVI |
| Other Pick-up: | BVI - inquire, limit 7 |
---
Details
| | |
| --- | --- |
| Refit: | - |
| Helipad: | No |
| Jacuzzi: | No |
| A/C: | Full |
Engine Details
180hp Volvo and 17,5kw ONAN
Fuel Consumption:
20
Cruising Speed:
8knts
Max Speed:
12knts+US Gall/Hr
Locations
| | |
| --- | --- |
| Winter Area: | Caribbean Virgin Islands, Caribbean Leewards, Caribbean Windwards |
| Summer Area: | Caribbean Virgin Islands, Caribbean Leewards, Caribbean Windwards |
---
Amenities
| | |
| --- | --- |
| Salon Tv/VCR: | Yes |
| Salon Stereo: | Yes |
| Sat Tv: | - |
| # of Videos: | Array |
| # DVDs/Movies: | Yes |
| # CD's: | Fusion Blu |
| Camcorder: | Yes |
| Books: | Yes |
| Board Games: | No |
| Sun Awning: | Yes |
| Deck Shower: | Yes |
| Bimini: | Yes |
| Water Maker: | 285L/75US |
| | |
| --- | --- |
| Special Diets: | Yes |
| Kosher: | Inq |
| BBQ: | Yes |
| # Dine In: | - |
| Minimum Age: | N/A |
| Generator: | yes |
| Inverter: | Yes |
| Voltages: | 110V |
| Water Maker: | 285L/75US |
| Water Cap: | - |
| Ice Maker: | Yes |
| Sailing Instructions: | no |
| Internet Access: | Onboard WIFI |
| | |
| --- | --- |
| Gay Charters: | Yes |
| Nude: | Yes |
| Hairdryers: | Yes |
| # Port Hatches: | - |
| Guests Smokes: | No |
| Crew Smokes: | No |
| Pets Aboard: | No |
| Pet Type: | N/A |
| Guest Pets: | No |
| Children Ok: | Yes |
| Hammock: | Yes |
| Windscoops: | No |
---
Water Sports
| | |
| --- | --- |
| Dinghy size: | 16' |
| Dinghy hp: | 60HP |
| Dinghy # pax: | 8 pax |
| Water Skis Adult: | Yes |
| Water Skis Kids: | No |
| Jet Skis: | No |
| Wave Runners: | No |
| Kneeboard: | No |
| Windsurfer: | No |
| Snorkel Gear: | Yes |
| Tube: | Yes |
| | |
| --- | --- |
| Scurfer: | No |
| Wake Board: | Yes |
| Kayaks 1 Pax: | No |
| Kayaks (2 Pax): | 1 |
| Floating Mats: | Yes |
| Swim Platform: | yes |
| Boarding Ladder (Loc/Type): | - |
| Sailing Dinghy: | no |
| Beach Games: | - |
| Fishing Gear: | No |
| Gear Type: | - |
| Rods: | - |
Come begin your journey with us.
"Bodhisattva is any person who takes up a course in his or her life
that moves in the direction of Buddha/Enlightenment."

Jannas ( pronounced Yan-nas) and Carolina come with experience in the region and industry, bringing a fresh vibrance to the yacht Bodhisattva. Jannas has always been free to roam, starting young on motorcycles in the outskirts of the cities of South Africa. He brings his adventurous nature and down to earth attitude in a friendly and relaxed manner. He grew into the technical industry for many years and decided he was looking for change. He became more creative building custom artisanal coffee machines in the Design Capital of Cape Town. It was here that he excelled and began to explore his love for the sea. Kite-boarding already, it wasn't long before he decided to follow his heart, and he began his life in sailing, bringing his strong attributes with him and hasn't looked back. You will know his passion for great coffee, kite-boarding, long distance sailing and adventure motorcycling with an ever evolving relationship with nature and the art of Zen that brings things together.

Jan's Moto - The key to immortality is first living a life worth remembering."Bruce Lee".
Carolina was raised in South Africa by Argentine parents, making her an true hybrid of Latin passion and African rhythm, blended. She explored life to the max from a very young age. Starting out in restaurants, to event management, tourism, adventure guiding in South Africa, courses on wine and tasting life! Carolina moved to Cape Town at 20 and there she learnt to rock climb, canyon, surf and her sailing journey began. She always loved people and the natural outdoors. It wasn't long before she set sail, off to cross the oceans of the world. On her travels she experienced all types of cuisine and cultures, and she was inspired by the diet/health relationship around the world. Having always worked in tourism and hospitality, Carolina dived into food and health to expand her skill set and fell in love with artisanal home-made goods and quickly qualified with her Super Yacht Culinary course, to bring her love for food and inspiration into the galley. Her fave-moto's on food - "Good Food creates Good Mood," "Don't live to eat, but, Eat to Live!"

Together they bring a wealth of sporty, friendly, relaxed and adventurous dynamics and sail you away through the islands.





(15 December -30 April)
Caribbean Virgin Islands, Caribbean Leewards, Caribbean Windwards
(1 May - 14 December)
Caribbean Virgin Islands, Caribbean Leewards, Caribbean Windwards
| | | | | | | | | | | | | | | | | | | | | | | | | | | | | | | | |
| --- | --- | --- | --- | --- | --- | --- | --- | --- | --- | --- | --- | --- | --- | --- | --- | --- | --- | --- | --- | --- | --- | --- | --- | --- | --- | --- | --- | --- | --- | --- | --- |
| Dec 2020 | 1 | 2 | 3 | 4 | 5 | 6 | 7 | 8 | 9 | 10 | 11 | 12 | 13 | 14 | 15 | 16 | 17 | 18 | 19 | 20 | 21 | 22 | 23 | 24 | 25 | 26 | 27 | 28 | 29 | 30 | 31 |
| Jan 2021 | 1 | 2 | 3 | 4 | 5 | 6 | 7 | 8 | 9 | 10 | 11 | 12 | 13 | 14 | 15 | 16 | 17 | 18 | 19 | 20 | 21 | 22 | 23 | 24 | 25 | 26 | 27 | 28 | 29 | 30 | 31 |
| Feb 2021 | 1 | 2 | 3 | 4 | 5 | 6 | 7 | 8 | 9 | 10 | 11 | 12 | 13 | 14 | 15 | 16 | 17 | 18 | 19 | 20 | 21 | 22 | 23 | 24 | 25 | 26 | 27 | 28 | | | |
| Mar 2021 | 1 | 2 | 3 | 4 | 5 | 6 | 7 | 8 | 9 | 10 | 11 | 12 | 13 | 14 | 15 | 16 | 17 | 18 | 19 | 20 | 21 | 22 | 23 | 24 | 25 | 26 | 27 | 28 | 29 | 30 | 31 |
| Apr 2021 | 1 | 2 | 3 | 4 | 5 | 6 | 7 | 8 | 9 | 10 | 11 | 12 | 13 | 14 | 15 | 16 | 17 | 18 | 19 | 20 | 21 | 22 | 23 | 24 | 25 | 26 | 27 | 28 | 29 | 30 | |
| May 2021 | 1 | 2 | 3 | 4 | 5 | 6 | 7 | 8 | 9 | 10 | 11 | 12 | 13 | 14 | 15 | 16 | 17 | 18 | 19 | 20 | 21 | 22 | 23 | 24 | 25 | 26 | 27 | 28 | 29 | 30 | 31 |
| Jun 2021 | 1 | 2 | 3 | 4 | 5 | 6 | 7 | 8 | 9 | 10 | 11 | 12 | 13 | 14 | 15 | 16 | 17 | 18 | 19 | 20 | 21 | 22 | 23 | 24 | 25 | 26 | 27 | 28 | 29 | 30 | |
| Jul 2021 | 1 | 2 | 3 | 4 | 5 | 6 | 7 | 8 | 9 | 10 | 11 | 12 | 13 | 14 | 15 | 16 | 17 | 18 | 19 | 20 | 21 | 22 | 23 | 24 | 25 | 26 | 27 | 28 | 29 | 30 | 31 |
| Aug 2021 | 1 | 2 | 3 | 4 | 5 | 6 | 7 | 8 | 9 | 10 | 11 | 12 | 13 | 14 | 15 | 16 | 17 | 18 | 19 | 20 | 21 | 22 | 23 | 24 | 25 | 26 | 27 | 28 | 29 | 30 | 31 |
| Sep 2021 | 1 | 2 | 3 | 4 | 5 | 6 | 7 | 8 | 9 | 10 | 11 | 12 | 13 | 14 | 15 | 16 | 17 | 18 | 19 | 20 | 21 | 22 | 23 | 24 | 25 | 26 | 27 | 28 | 29 | 30 | |
| Oct 2021 | 1 | 2 | 3 | 4 | 5 | 6 | 7 | 8 | 9 | 10 | 11 | 12 | 13 | 14 | 15 | 16 | 17 | 18 | 19 | 20 | 21 | 22 | 23 | 24 | 25 | 26 | 27 | 28 | 29 | 30 | 31 |
| Nov 2021 | 1 | 2 | 3 | 4 | 5 | 6 | 7 | 8 | 9 | 10 | 11 | 12 | 13 | 14 | 15 | 16 | 17 | 18 | 19 | 20 | 21 | 22 | 23 | 24 | 25 | 26 | 27 | 28 | 29 | 30 | |
---