TELLSTAR
$58,000 - $59,500 / WEEK
---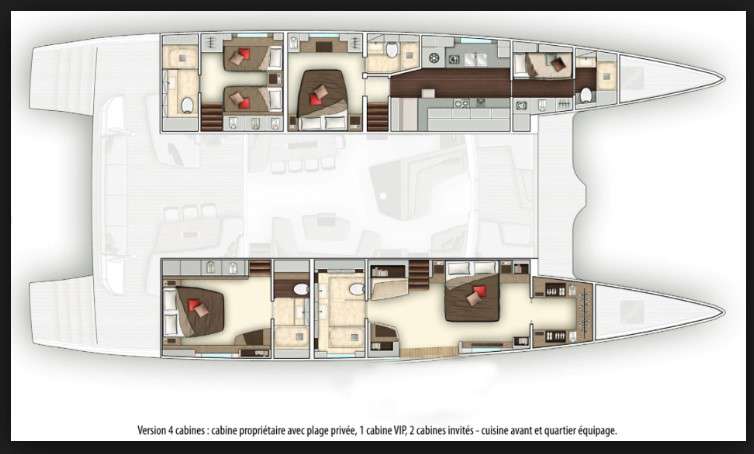 Boat Details
| | |
| --- | --- |
| Cabins: | 4 |
| Queen: | 2 |
| Single Cabins: | 1 |
| Showers: | 4 |
| Wash Basins: | 4 |
| Heads: | - |
| Electric Heads: | 4 |
Pick Up Locations
| | |
| --- | --- |
| Pref. Pick-up: | BVI |
| Other Pick-up: | BVI |
---
Details
| | |
| --- | --- |
| Refit: | - |
| Helipad: | No |
| Jacuzzi: | No |
| A/C: | Full |
Engine Details
2 x 250 HP John Deere engines. 21 KW Generator.
Fuel Consumption:
-
Cruising Speed:
-
Max Speed:
-
Locations
| | |
| --- | --- |
| Winter Area: | Caribbean Virgin Islands, Caribbean Leewards, Caribbean Windwards |
| Summer Area: | Caribbean Virgin Islands |
---
Amenities
| | |
| --- | --- |
| Salon Tv/VCR: | - |
| Salon Stereo: | Yes |
| Sat Tv: | - |
| # of Videos: | Array |
| # DVDs/Movies: | Yes |
| # CD's: | - |
| Camcorder: | - |
| Books: | Yes |
| Board Games: | Yes |
| Sun Awning: | Yes |
| Deck Shower: | Yes |
| Bimini: | Yes |
| Water Maker: | Yes - 78 G |
| | |
| --- | --- |
| Special Diets: | Inq |
| Kosher: | No |
| BBQ: | Yes |
| # Dine In: | Yes |
| Minimum Age: | None |
| Generator: | 21 KW |
| Inverter: | 2 x 3000 Watts |
| Voltages: | 110V |
| Water Maker: | Yes - 78 G |
| Water Cap: | - |
| Ice Maker: | Yes |
| Sailing Instructions: | - |
| Internet Access: | - |
| | |
| --- | --- |
| Gay Charters: | Yes |
| Nude: | Yes |
| Hairdryers: | Yes |
| # Port Hatches: | - |
| Guests Smokes: | Stern steps only |
| Crew Smokes: | No |
| Pets Aboard: | No |
| Pet Type: | - |
| Guest Pets: | No |
| Children Ok: | Yes |
| Hammock: | Yes |
| Windscoops: | - |
---
Water Sports
| | |
| --- | --- |
| Dinghy size: | 16.5 ft |
| Dinghy hp: | 90 |
| Dinghy # pax: | 10 |
| Water Skis Adult: | Yes |
| Water Skis Kids: | Yes |
| Jet Skis: | No |
| Wave Runners: | No |
| Kneeboard: | Yes |
| Windsurfer: | No |
| Snorkel Gear: | Yes |
| Tube: | Yes |
| | |
| --- | --- |
| Scurfer: | No |
| Wake Board: | Yes |
| Kayaks 1 Pax: | 2 |
| Kayaks (2 Pax): | 1 |
| Floating Mats: | Yes |
| Swim Platform: | Stern Steps |
| Boarding Ladder (Loc/Type): | Stern |
| Sailing Dinghy: | - |
| Beach Games: | - |
| Fishing Gear: | Yes |
| Gear Type: | Trolling & Casting |
| Rods: | 3 |
Captain Jack and Jaimey are an energetic and fun loving couple that will make you feel relaxed and at ease. With this crew, the answer is always YES! They are passionate about sailing and share a love for the Caribbean. Captain Jack has intriguing historical stories about the Caribbean that he loves to share with guests. "Story Time" as many past guests like to call it, is a daily event that takes place during breakfast each day. Jaimey is an amazing chef. Her food is fresh and full of flavor and her homemade breads are to die for! Jaimey is also full of energy and loves to snorkel, hike, run and when time permits, lead a dive or two! Jack is from the US and Jaimey is from the cold north of Canada. With over ten years living in the Caribbean, these two are a professional hard working team who are enjoying life to the fullest. Jack and Jaimey have been chartering in the Caribbean together for 8 years. They have chartered in The Grenadines, St Martin and The BVI's. Together they have sailed over 15,000 nautical miles including an Atlantic crossing after picking up a brand new Lagoon 620 in France in 2016. Then they did it again in 2018, this time picking up Tellstar the Lagoon 77 from the factory in Bordeaux France.

Captain Jack was born and raised in Maryland sailing the waters of the Chesapeake. He started sailing as a young boy with his father. He studied at the University of Maryland and served in the US Navy. Jack has a bachelor's degree from the University of Maryland and was trained in the Navy's Nuclear Power Program were he served on Submarines. After leaving the Navy, Jack worked as a Nuclear Engineering consultant for 14 years during which time he obtained a Master's in Business Administration from Johns Hopkins University. Jack built sea miles in the Navy, and doing deliveries and passages throughout his years in the corporate world. Finally, Jack decided to fulfill his lifelong dream of being a sea Captain and left the US. Jack sailed, single handed, across the Atlantic and has completed many other crossings and long distance deliveries. Jack has also skippered numerous recreational vessels, including day sail vessels, dive boats, as well as working on Tall Ships. Jack is passionate about being on the water, but even more passionate about sailing. He has spent the past 10 years in the Caribbean working in the private yacht industry, running day charters and Captaining term charter vessels with up to 10 guests. Jack is a qualified Dive Master. Jack has a contagious joy for life. If you are looking for a sailing vacation that is exactly what you will get with Jack as your Captain. You will see Jack's face light up if asked to teach people how to sail.

First Officer/Chef Jaimey was born and raised in Canada. From the time she was born, she spent summers yachting on the lakes around Ontario with her family. Jaimey has a Civil Engineering degree from McGill University in Quebec and worked in the Environmental Engineering field following university. Jaimey's love for warmth and water brought her to the Caribbean 9 years ago where she learned to sail. Jaimey is the optimal chef and first mate. Her cuisine is full of flare and flavor and she always caters to the guests tastes. Jaimey loves to try new recipes and isn't afraid of a challenge in the galley. Jaimey's recipes are light and healthy yet filling and her homemade bread is heavenly! With Jaimey's love for sailing and the water she is also a great first mate. Jaimey loves to run, hike, explore, and exercise and will happily show you the islands from her perspective. Jaimey is also an experienced DiveMaster and loves to snorkel. Jaimey's joyful spirit, caring nature and love for cooking wonderful food guarantees guests feel relaxed and at home on their vacation.

Steward Jacob Archibald
Growing up in northeastern United States on the southern coast of New Jersey, Jakes love and appreciation for the ocean developed from a very early age. Jake grew up surrounded by a family of sailors, divers and fisherman. In 2010 Jake's family traded their life in New Jersey for the warm waters off the pacific coast of Costa Rica. The next few years of his life were spent traveling throughout Central America. Upon completing high school, Jake stumbled onto his first job in the yachting industry as Deck/Stew onboard luxury sailing catamarans. Jake has now been working aboard charter yachts for 3 years and it the ultimate crew member. He is friendly, charismatic and the guests are always his number one priority. He is a master mixologist, loves to take guests on snorkeling adventures and you will often find him at the helm driving the boat while Captain Jack runs around on deck! He really is a jack of all trades!

In May 2019 Jake spent a month in Gibraltar where he earned his RYA 200 ton Coastal Skippers license. Jake has aspirations to become a PADI Dive Master and one day he would like to work as a ships engineer. You can be rest assured that all your needs will be met with Jake looking out for you!

(15 December -30 April)
Caribbean Virgin Islands, Caribbean Leewards, Caribbean Windwards
(1 May - 14 December)
Caribbean Virgin Islands
| | | | | | | | | | | | | | | | | | | | | | | | | | | | | | | | |
| --- | --- | --- | --- | --- | --- | --- | --- | --- | --- | --- | --- | --- | --- | --- | --- | --- | --- | --- | --- | --- | --- | --- | --- | --- | --- | --- | --- | --- | --- | --- | --- |
| Jun 2020 | 1 | 2 | 3 | 4 | 5 | 6 | 7 | 8 | 9 | 10 | 11 | 12 | 13 | 14 | 15 | 16 | 17 | 18 | 19 | 20 | 21 | 22 | 23 | 24 | 25 | 26 | 27 | 28 | 29 | 30 | |
| Jul 2020 | 1 | 2 | 3 | 4 | 5 | 6 | 7 | 8 | 9 | 10 | 11 | 12 | 13 | 14 | 15 | 16 | 17 | 18 | 19 | 20 | 21 | 22 | 23 | 24 | 25 | 26 | 27 | 28 | 29 | 30 | 31 |
| Aug 2020 | 1 | 2 | 3 | 4 | 5 | 6 | 7 | 8 | 9 | 10 | 11 | 12 | 13 | 14 | 15 | 16 | 17 | 18 | 19 | 20 | 21 | 22 | 23 | 24 | 25 | 26 | 27 | 28 | 29 | 30 | 31 |
| Sep 2020 | 1 | 2 | 3 | 4 | 5 | 6 | 7 | 8 | 9 | 10 | 11 | 12 | 13 | 14 | 15 | 16 | 17 | 18 | 19 | 20 | 21 | 22 | 23 | 24 | 25 | 26 | 27 | 28 | 29 | 30 | |
| Oct 2020 | 1 | 2 | 3 | 4 | 5 | 6 | 7 | 8 | 9 | 10 | 11 | 12 | 13 | 14 | 15 | 16 | 17 | 18 | 19 | 20 | 21 | 22 | 23 | 24 | 25 | 26 | 27 | 28 | 29 | 30 | 31 |
| Nov 2020 | 1 | 2 | 3 | 4 | 5 | 6 | 7 | 8 | 9 | 10 | 11 | 12 | 13 | 14 | 15 | 16 | 17 | 18 | 19 | 20 | 21 | 22 | 23 | 24 | 25 | 26 | 27 | 28 | 29 | 30 | |
| Dec 2020 | 1 | 2 | 3 | 4 | 5 | 6 | 7 | 8 | 9 | 10 | 11 | 12 | 13 | 14 | 15 | 16 | 17 | 18 | 19 | 20 | 21 | 22 | 23 | 24 | 25 | 26 | 27 | 28 | 29 | 30 | 31 |
| Jan 2021 | 1 | 2 | 3 | 4 | 5 | 6 | 7 | 8 | 9 | 10 | 11 | 12 | 13 | 14 | 15 | 16 | 17 | 18 | 19 | 20 | 21 | 22 | 23 | 24 | 25 | 26 | 27 | 28 | 29 | 30 | 31 |
| Feb 2021 | 1 | 2 | 3 | 4 | 5 | 6 | 7 | 8 | 9 | 10 | 11 | 12 | 13 | 14 | 15 | 16 | 17 | 18 | 19 | 20 | 21 | 22 | 23 | 24 | 25 | 26 | 27 | 28 | | | |
| Mar 2021 | 1 | 2 | 3 | 4 | 5 | 6 | 7 | 8 | 9 | 10 | 11 | 12 | 13 | 14 | 15 | 16 | 17 | 18 | 19 | 20 | 21 | 22 | 23 | 24 | 25 | 26 | 27 | 28 | 29 | 30 | 31 |
| Apr 2021 | 1 | 2 | 3 | 4 | 5 | 6 | 7 | 8 | 9 | 10 | 11 | 12 | 13 | 14 | 15 | 16 | 17 | 18 | 19 | 20 | 21 | 22 | 23 | 24 | 25 | 26 | 27 | 28 | 29 | 30 | |
| May 2021 | 1 | 2 | 3 | 4 | 5 | 6 | 7 | 8 | 9 | 10 | 11 | 12 | 13 | 14 | 15 | 16 | 17 | 18 | 19 | 20 | 21 | 22 | 23 | 24 | 25 | 26 | 27 | 28 | 29 | 30 | 31 |
---